Planned litters
No futher litter s is planned for this year, to due the corona pandemic, the next litter is planned for winter 2021. But there will be some litters with friendly breeders with my stud dogs. All are be PRA PLL DNA tested, A or B hips, ED 0/0, OCD free are BEAR normal, has full dentition and DISH free, UNI Bern. All came from old australian bloodlines, have profen themselfs great nature, and want to work. All have excellent rating and some also are Multichampions.

I am happy to inform you about this litters and would also to bring you in contact with the breeders, if you are interested.
Geplante Würfe
Unser nächster Wurf ist für Frühling 2024 geplant!
Am 20.04.2023 wurde unser F2 Wurf geboren, es sind drei Hündinnen und ein Rüde.
Alle Welpen haben ein schönes zu Hause gefunden!
A big bad Boy vom Teufelsjoch "Bobby"
(Dingostar Dare to win x Viper vom Teufelsjoch)
WT 03.09.2018
Österreichischer Jugendchampion Österreichischer Champion V1 CACA CACIB BOB
Austrian Grand Champion
IBHVT IBGH 1 -3 STP 1,2
HD A ED 0/0 OCD frei
Rücken frei 09.02.2023
PRA/PLL clear
NCL clear
DM clear
PRA prcd 4 clear
vollzahniges Scherengebiss
BEAR normal
DNA geprüft
DISH frei 3. Februar 2023
DNA Profil
Uneingeschränkte Zuchtzulassung
X
Dingo's Creek Bluebeary "BB" Import Tschechien
(Unique blue Cidabro x Aqua Viva Regina Canina)
20.10.2015
Österreichischer Jugenschampion V1 CACA CACIB BOB
HD A ED 0/0 OCD frei
Rücken frei 17.04.2023
PRA/PLL clear
vollzahniges Scherengebiss
BEAR normal
DNA geprüft
DISH frei 17.04.2023
DNA Profil
uneingeschränkte Zuchtzulassung
Bobby entstammt noch der Turrella Linie sein Grossvater ist Turrella blue spanish Leopard, über seinen Vater Smile kommt er aus sehr bewährten alten australischen Linien, seine Grossmutter ist meine liebe Emily, Bobby wird in einigen Sparten des Hundesports gearbeitet, und ist mehrfacher Champion und Grand Champion. BB ist Import Tschechien in ihrer Ahnentafel finden sich viele ganz grosse Namen, BB war viel im Showring und hat immer überzeugt, ihre Gesundheit ist bestens, Wesen kann man nur sagen, grossartig. Es wird BBs letzter Wurf sein.PEDIGREE de.working-dog.com/breed/vom-Teufelsjoch-263388
Haben Sie Interesse an einem Welpen aus diesem besonderen Wurf, setzten sie sich mit mir in Verbindung, am besten ist per e-mail oder Telefon.
Wenn ich mich länger nicht melde versuchen Sie es öfter, ich beantworte alle Anfragen!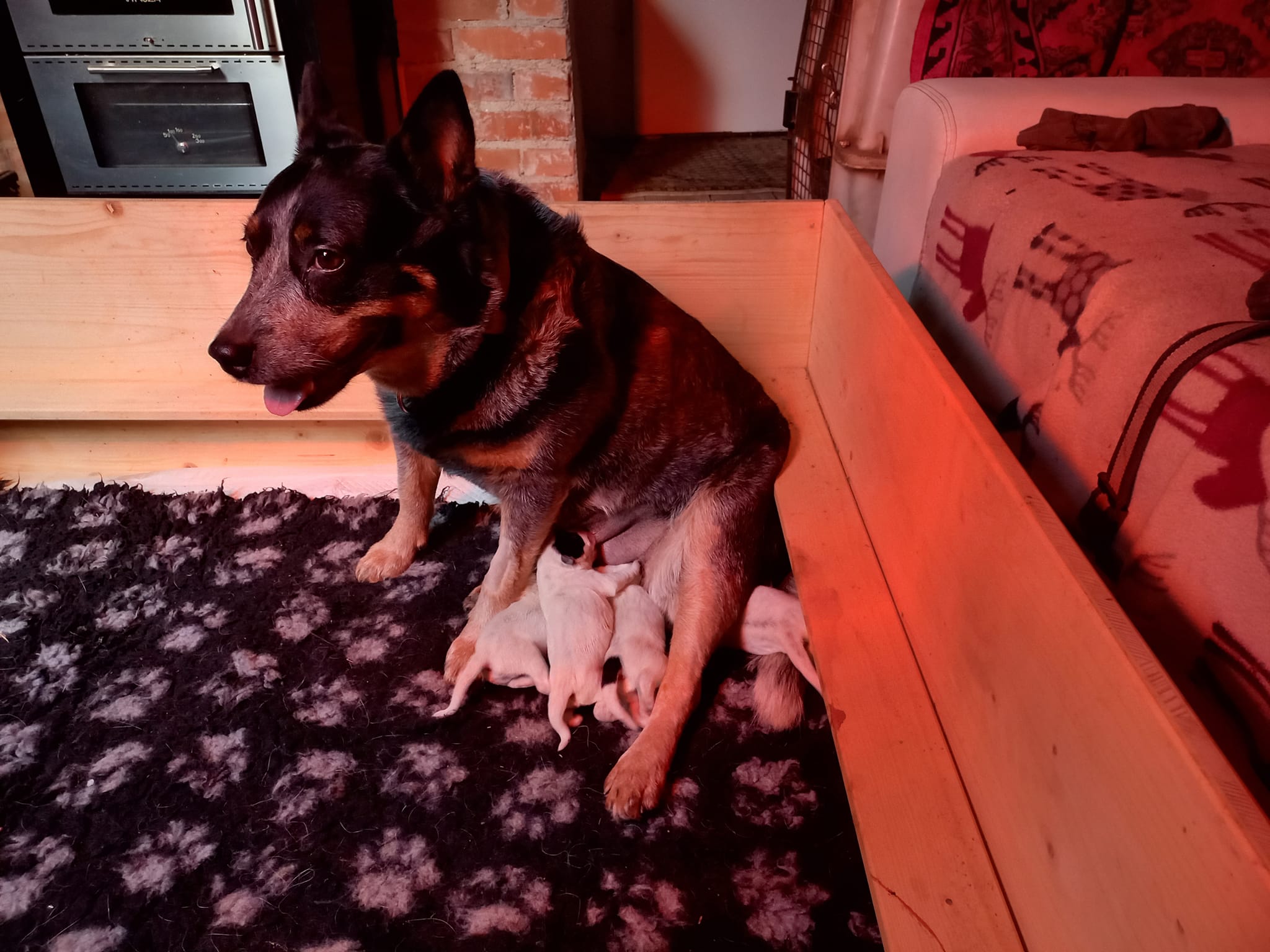 August 2021
Inter,MultiCH Cattle Catchers Easy Flying Wrangler
PRA, PLL frei
HD A ED 0/0 OCD frei
Dish frei 17.04. 2023
BEAR normal
vollzahnigs Scherengebiss
BH BGH1
DNA Profil
x
ÖJCH Dingo Creek's Bluebeary
PRA frei
HD A ED 0/0 OCD frei
Dish frei 18.06.2021
BEAR normal
Vollzahniges Scherengebiss
BH
DNA Profil
Wir erwarten den Wurf Ende August. Am 22.August kamen 4 Rüden und 4 Hündinnen zur Welt alle Welpen haben ein tolles zu Hause gefunden!